What does a Customer Support & Quality Manager do at BITS?
– An interview with our Customer Support & Quality Manager Julian. –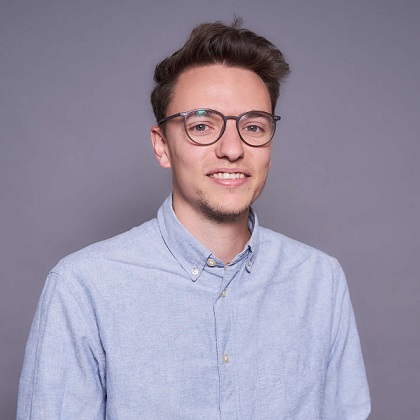 "My responsibilities evolved very quickly after I started. At the start, I was purely a support employee and then quality management was added. Most recently, I also spent a few months assisting in consulting and project management."
Julian began his career path at BITS in 2019 directly after graduating. After joining, he quickly took on additional areas of responsibility and further expanded his expertise. We spoke with him in 2022 about his start and career at BITS and asked him if he feels comfortable with us and why.
"Hi Julian, why don't you introduce yourself?"
"Hi Servus, I'm Julian, I'm 29 years old and I've been with BITS for 3.5 years and I feel like a million bucks."
"What exactly do you do with us?"
"I am responsible for support and quality management, which means I provide 1st, 2nd and 3rd level support for various projects – I think there are 6 of them by now. In these projects, I am also responsible for quality management and take all requests from customers and then try to clarify or solve them directly or discuss them with the responsible colleagues, some of whom are in development or IT consulting. When the requests have been solved and the customer's requirements have been implemented, I perform a quality check and check the implementation and test it."
"That sounds very versatile, doesn't it?"
"Yes, that's right. I think vMany people introduce themselves under support the classic helpdesk and the typical typical questions, like: "my Outlook does not work" come. But it's not like that at all, because it's very technical here. I also think it's great that I can communicate so much, as I can the interface between customers – here both user and Product owner – and the colleagues at BITS. There I am all around involved in everything , and I'm super happy to do that."
"How did you hear about BITS?"
"At BITS, I chose to start my career directly after graduation .I'm not originally from Munich. I came acrossMunich at the time througha contact of mine and thenapplied to a major corporation and also hadan interview – but I didn't like that at all . Then I looked for jobs again through the traditional channels and applied to BITS. Here I am particularly positive that the BITS was very fast and also an invitation came directly – I think in the week after the application. BITS convinced me with its personal and open manner – I simply had a super feeling. I knew then that this would be the perfect start for me. During my interview, I was also given a tour of the office. guided, where directly the beer refrigerator positively onpleasedn is. The Just gave theimpression that you're going to have a lot of fun here even after you're done working."
"I'm glad you have such fond memories of your application process. What happened after that, or how was your start at BITS?"
"My start was very relaxed because everyone was super supportive from the beginning. Nevertheless, I was also thrown in at the deep end – it started right from day one. However, I always had the feeling that I could approach my colleagues and the bosses with questions and requests at any time. The challenge at the beginning was good because I learned a lot through this.
My responsibilities evolved very quickly after I started. At the start, I was purely a support employee and then quality management was added. Most recently, I also supported consulting and project management for a few months. I think that's great, you always have the opportunity to develop further. If you address the issues, the bosses are always open to change."
"What would you say you like best about working at BITS?"
"Our team is great, we are all one team, even though we work in different areas. I think it's great that we have such nice colleagues throughout and that we pay a lot of attention to cooperation and humanity when selecting new employees. And I find the wide range of projects exciting."
"What would you recommend to applicants? Why should they apply to us or start with us?"
"So definitely, if you care about the personal and private, because this has a high value. Despite the fact that we are a small company, the diversity in the projects is very high and the further development is clearly given. I see the advantage, especially for career starters, of being able to look at different areas.
I also think the home office arrangement is great, because everyone can independently arrange how often they come in. You're self-determined and your work life and private life come into harmony – I wouldn't want to miss that."
"Thank you Julian, I think your descriptions give a very good picture to the applicants."
BITS INTERVIEWS
An interview with our UX/UI designer and front-end developer Jarmila.