What does an IT student trainee actually do at BITS?
– An interview with our working student Jan. –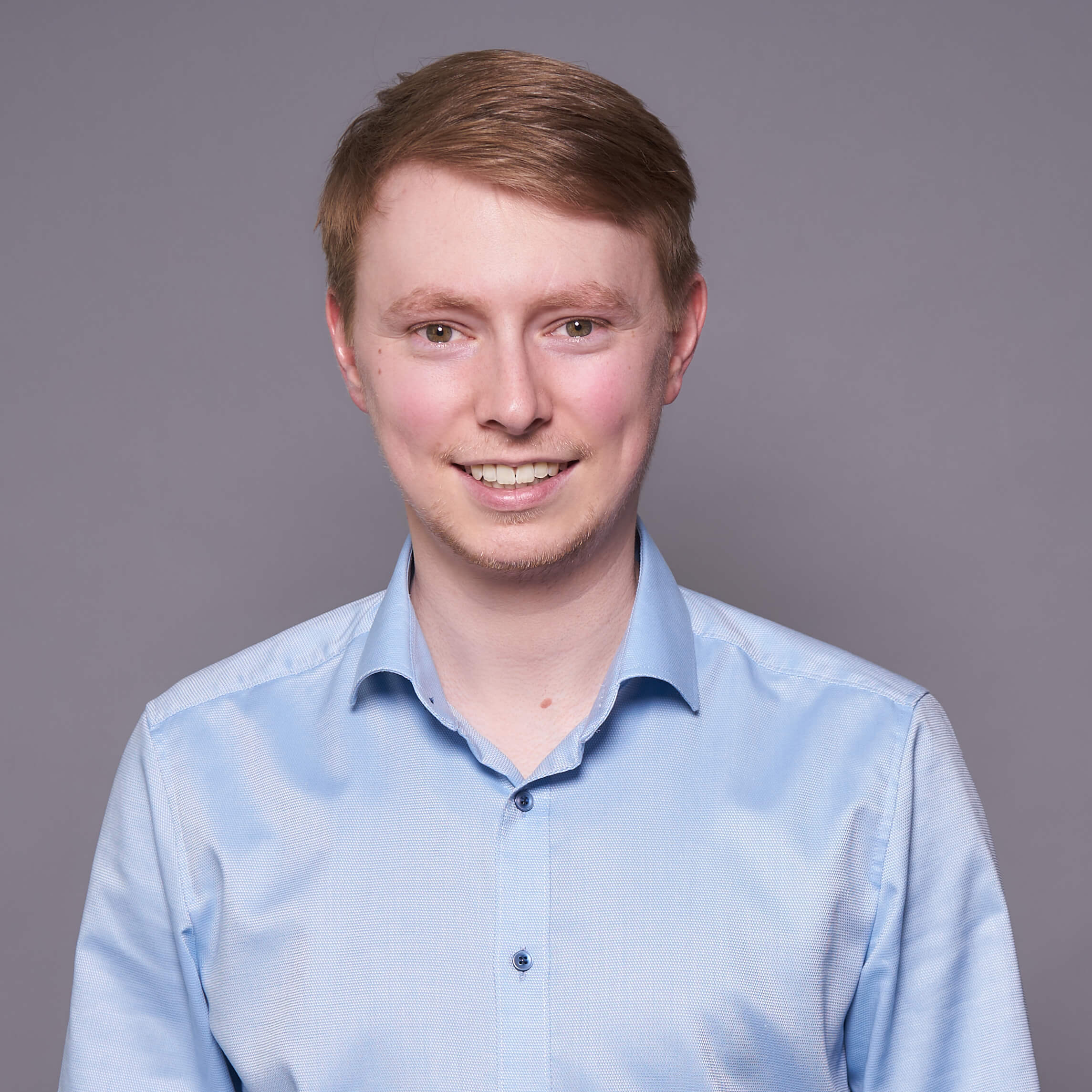 "My role was then as a fullstack developer to implement both the backend and the frontend (a hybrid app for browser, iOS and Android) together with the startup team."
Jan is studying Computer Science in the Master's program at the University of Applied Sciences Munich (HM) and joined BITS in 2018. He started as a working student and has since worked on a number of projects. We did a short interview with him in 2022 about his work during his studies, technologies used and agile software development.
"Hi Jan, why don't you introduce yourself?"
"Hello, I'm Jan. I'm a master's student in computer science at Munich University of Applied Sciences (HM) and I'm a working student at BITS. I am currently writing my master's thesis there."
"How did you hear about BITS?"
"In 2018, while looking for an internship, I became aware of BITS through HM's job portal. The internship position sounded exciting and then I applied directly."
"How was your start at BITS?"
"I started the internship semester together with another student from HM, Juliane. I thought that was great because we were able to support each other right from the start. After getting to know several projects at BITS, we were able to get started directly in one of the projects, which involved developing an app for a startup."
"That sounds exciting. What were your tasks there?"
"I was able to get to know all aspects of an IT project there. We got to know the startup team and discussed the technical requirements and then designed the IT architecture of the app and the backend. My role was then as a full stack developer, together with colleagues from BITS, to implement both the backend and the frontend (a hybrid app for browser, iOS and Android) together with the startup team."
"What technologies did you use?"
"We implemented the frontend with Ionic, which is based on Angular. The backend we wrote with Java and the Playframework. We used MySQL as the database."
"What was your day-to-day work like?"
"We implemented the entire project in an agile manner using SCRUM. In this context, we had a Daily every morning where we discussed together what was coming up. Every 2 weeks we planned the new sprint and implemented and pushed it until our next meeting."
"Towards the end of my internship, Alex (one of the managing directors of BITS) approached me and asked me if I would like to continue working for BITS as a student trainee after the internship, which I was very happy to accept. In the process, I continued to work on the app from the internship and after some time I was able to work in another startup of BITS,
customice
and support the team there. Here I have also been a fullstack developer in the back- and frontend. Then, when my bachelor's thesis was due, I thought about writing it at BITS as well."
"Very cool – then how did you come up with your topic?"
"In an exchange with our management, there were initially a number of exciting topics to choose from. In the end, I decided on a topic related to microservices. This involves breaking down a very large application that has grown over the years into several parts so that many new benefits can be derived from it. Specifically, in my bachelor's thesis I looked at how a very large monolithic project can be transformed into a more modern microservice architecture. After completing my bachelor's thesis, I then decided to stay at BITS as a full-time employee for the time being."
"We're glad you stayed with us after your bachelor's degree! How did it go from there?"
"At
customice
I then worked as a fullstack developer and conceptualized and implemented great new features in close collaboration with Martin (one of the managing directors of BITS as well as customice GmbH). I particularly liked the fact that I had a lot of freedom at work and in the project and could work very independently. During that time, I decided to still get my master's degree."
"And which master did you choose?"
"Here I decided again for HM and there for a Master with focus on Software Engineering. Meanwhile, BITS supported me super again and I was able to work at BITS again as a working student during my semester break."
"You're very welcome, dear Jan – and now you're writing your master's thesis, right?"
"Yes, exactly – once again I was able to find an exciting topic at BITS. This time I consider
customice
and how you can future-proof a complex workflow there using modern cloud technologies. I started the theme 4 weeks ago and am now going full speed ahead. "Buzzwords" in this regard are, for example, "cloud native" and "serverless"
"Good luck! We look forward to you staying with us after you finish your master's degree."
"That would be cool – I would love to continue to be part of the BITS team because I have come to appreciate the company culture at BITS over the past few years – I would also really miss my colleagues if I left.😉"
BITS INTERVIEWS
An interview with our UX/UI designer and front-end developer Jarmila.