What does a Senior Software Engineer & Architect do at BITS?
– An interview with our Senior Software Engineer & Architect Andreas. –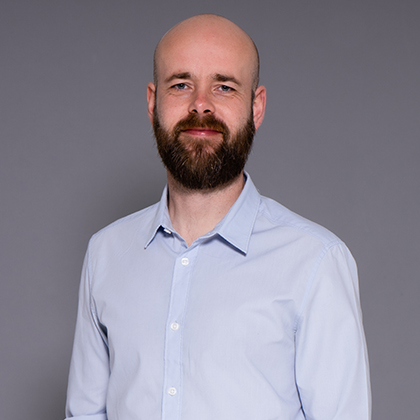 "I've also always enjoyed dealing with different technical topics. Looking at and understanding new but also old technologies, optimizing databases and software architectures or building interfaces and APIs."
Andreas joined BITS in 2012 as a Senior Software Engineer & Architect. Three years after graduating as an IT specialist, he joined us so that he could pursue his enthusiasm for Java and live it out professionally. We talked to him in 2022 about his start, experiences, tasks, projects and his professional career from junior to senior level at BITS.
"Hello Andreas, why don't you introduce yourself?"
"Hello, I'm Andi. I've been with BITS for over 10 years now and work as a senior software engineer and architect. I've also been a family man for two years, which gives me a lot of pleasure."
"How did you hear about BITS?"
"I completed my training as an IT specialist for application development in 2009 and then worked for a few years at other companies. Back then, I really enjoyed Java. Since I couldn't expand on that in my job at the time, I started looking for a new challenge. During my research for IT companies in Munich, I became aware of BITS – and simply applied on my own initiative."
"What a lucky break for us. How was your start at BITS then?"
"I had only a few years of professional experience and even less in the Java environment, so I started as a junior Java developer. At that time, a new project was just starting, which I found very exciting because I could be part of it from the beginning. At that time I had some experienced colleagues in the team, who on the one hand supported me very much, but on the other hand also let me jump in at the deep end a few times. But that's exactly what helped me to gain experience and become more and more confident in my daily work. And so I was able to gradually take on more and more responsibility for individual software modules or sub-projects."
"Okay, that sounds exciting. That means you've done a lot of programming?"
"Yes, at first I did. But my colleagues quickly realized that I'm very communicative – and so I got involved in communicating with our customers relatively quickly. I enjoyed that a lot, because I got to see the requirements firsthand and was then able to first formulate them into concepts and then implement them in software, and then I also got to see how the users worked with it."
"That sounds like a good start. And meanwhile, a few years later, how did it continue, what exactly do you do every day at BITS?"
"Looking back, I was able to learn a lot at that time and then gradually developed myself further, was able to work on new exciting projects and also started to pass on my knowledge to new colleagues. I have also always enjoyed dealing with different technical topics. Viewing and understanding new, but also old technologies, optimizing databases and software architectures or building interfaces and APIs. And so I slipped first into the role of junior architect and later senior architect.
Many of these topics still occupy me today, and sometimes they include supposedly "unsolvable tasks" that, on closer inspection, turn out not to be unsolvable after all. I support my colleagues wherever I can in designing, optimizing or modernizing software and IT architectures in our projects."
"You started with Java, after all, what technologies are you using today?"
"I still like Java very much. But I have come into contact with many different technologies over the course of time. Among them are hip trends or established technology stacks, and in some cases legacy systems. Cloud technologies have also been part of my everyday life for a few years now, of course. "
"That definitely sounds exciting! What would you say you like best about working at BITS?"
"In fact, I like the family environment the best. And that I was allowed to take on responsibility right from the start, even when I was not yet so experienced and was given the appropriate trust. If you ever need support, you can always find a colleague who can help you. Even away from the technical topics.
At the same time, I like the varied and exciting tasks, so it never gets boring."
"What would you recommend to applicants? Why should they apply to us or start with us?"
"If you're looking for a chance at a challenge, you can get it with us. We all enjoy and support each other in our ongoing development. Professionalism is not neglected, and we owe this to our customers and partners – you can rely on us.
At the same time, BITS is a great company, family-friendly and makes for exciting projects."
BITS INTERVIEWS
An interview with our UX/UI designer and front-end developer Jarmila.